Introduction
Bi MEN NETWORK
We would like to introduce ourselves and our 1/4 million bisexual, bi-curious and gay adult MEN on all six continents who are an untapped market and the last unexploited niche in GLBT marketing in the world today. See our demographics below.

See our world portal at:

www.bimen.org

. Y ou may wish to more closely see our chapters in Europe and North America - you can view those two directly at:

www.bimen.org/northamerica.htm

and at:

www.bimen.org/europe.htm

- we also have rosters for our Chapters in:

Latin America

,

Africa

,

Asia

, and

Australia/Oceania

. We are one of the few LARGE GLBT organizations with daily contact, support, and loyal members on all six continents.

Our Members can be contacted at a reasonable, cost-effective manner in several ways. We warmly welcome:
Banners or ads in our monthly newsletters
Special offers made directly to our men via an email letter from our Founder detailing the special offer and how to take advantage of it
Sponsorship of one or more of our EVENTS
Sponsorship of Founder "Mac" Road-Shows
An annual support agreement for our NETWORKS with recognition on our world portals home pages and regular acknowledgment in our monthly newsletters and our other mass member communications.


Please feel free to reply here with any questions you may have - or refer us to the best person in your firm for GLBT marketing to bisexual and gay adult men. I welcome phone calls directly - the best times to call are afternoons Pacific Daylight Time directly to 760/322-8672 (Palm Springs, CA).

Thank you for your time and courtesy. We are eager to hear from you and possibly team with you.

Best Wishes,

Stewart McCloud
Founder & President
Bi Men Network & Bi & Gay Men Network
http://www.bimen.org
250,000+ Men with us!
Description
The BI Men Network is a free worldwide social and support organization for bisexual men, BI-curious males, gay men, and BI couples. Providing; resources, information, pictures/videos, events, and Personals as part of our membership services. More than 200,000 members strong, the services and resources we offer are completely free to our membership. We are now the largest association for bisexuals on earth today.

We can deliver your message to the most recently identified market group. BI Men Network is the "B" in GLBT. Our marketing portals reach this vast but yet until now unidentified and untapped market. The BI Men Network membership has shown itself to be loyal as well as supportive to those offering support and acceptance. Universal as well as specialty sales needs make this group particularly appealing.

For your marketing consideration following is our demographic portrait:


Membership Totals
USA - 229,549 members (Includes geographic based members and special interest based members)

International - 17,837 members (Geographic based membership)

Special Interest based members 76,728 in USA. (Target Marketing by product)


Membership Identification



Cumulative averages:
Medium age bracket 32 - 45


% Identified as male 97%
% Identified as female .73%
% Gender not specified 1.8%
Identified as BI 76%
Identified as Gay 16%
Unidentified 8%
Advertise on the Number 1 Bisexual Male
Web Site on the Internet

Why Market Your Product or Service to Our Audience?
A 1998 study by Greenfield Online and Spare-Parts found the following:

•

The typical gay Internet user is male (68 percent) and mainly aged between 25 and 44 years. 39 percent of respondents said they were living in a domestic partnership. The vast majority (89 percent) have some level of college education and a further 23 percent have completed postgraduate work.

•

At USD 57 thousand, the average income of the gay Internet user is slightly higher than that of the general user, which GVU estimates at USD 52 thousand.

•

Greenfield found that lesbians and gays included in the survey spend an average of three hours per day using the Internet. This does not include time spent using email. 80 percent of those surveyed said they own a PC. 20 percent plan to buy a new computer in the next 6 months. In keeping with general trends, Greenfield found that significantly more gay men than women shop online.

•

Additionally, Greenfield found that 78 percent of gay online users prefer to buy from companies that advertise to the gay market. And 71 percent of gay online users have made credit card purchases online.
•

There will be 22.4 million gay and lesbian Internet users by 2005, according to the latest research from Computer Economics.

•

This group will be largely concentrated in North America but gay and lesbian Internet user numbers will grow rapidly in other regions, particularly in the Middle East, South America, Asia/Pacific and Africa.

•

Computer Economics analysts say the gay and lesbian online population is growing much faster than the Internet population as a whole. This hypergrowth is attributed to factors such as privacy, online communities and relevant information that appeals to this demographic.
Simmons' research comparing gay consumers to the national index of consumers, reports that typical gay consumers are:

•

71% male/29% female.

•

Over twice as likely as national index to be professionals/managers.

•

Twice as likely to have household income over $60K.

•

Twice as likely to have household income over $250K.

•

Twice as likely to have graduated from college.

•

Three times more likely to be online than the average American.

•

Four times as likely to spend over $150 on long distance monthly.

•

Twice as likely to spend $250 on cellular service.
And that, of those surveyed:

•

Over 90% took a domestic trip this year.

•

60% took a foreign trip in the last three years.

•

65% identify themselves as having to have the "latest".

•

68% upgrade to a product's latest model.

•

77% "believe in indulging in themselves".

•

57% "prefer to buy top of the line".

•

59% buy themselves whatever they want.
Gay And Lesbian Travelers Represent A Lucrative Niche Market, According To Forrester Research.

•

Online gay and lesbian consumers are not only more likely to book travel online than their straight counterparts, they also have more buying power, representing a lucrative niche market, according to Forrester Research, Inc. (NASDAQ: FORR). In a recent study of online travelers, Forrester found that 41% of gays and lesbians had booked travel on the Net compared with 28% of straight consumers. The study also found that gay and lesbian Bookers -- who account for 3.5% of online travelers and represent more than 5% of all online travel buyers -- will research nearly $2.9 billion of travel online in 2001.

•

"A closer look at the behavior of gay and lesbian travel Bookers reveals a potential gold mine for travel marketers. According to our findings, compared with their straight counterparts, gay and lesbian Bookers are better educated with higher incomes, are big fans of online shopping and new consumer technologies, and are more willing to pay for premium services. Couple these demographics with a passion for travel, and you have a marketer's dream audience."
Gay Internet users more likely to purchase online than non-gays, reports a new study by Witeck Combs Communications.

•

A January 2001 study shows that 28 percent of LGBT respondents conducted banking transactions online in the previous 3 months, compared to 21 percent of non-gay web users. Gay respondents are also more likely to make online purchases than non-gays (63% vs. 59%).

•

32 percent of Gay and Lesbian Internet users are online for more than 21 hours per week, not counting time spent in email. This is up from 25 percent reported in April 2000. Non-gay usage showed a minor decline to 17 percent from 18 percent of those user reporting being online for more than 21 hours per week.

•

Sixty-three percent of Gay and Lesbian respondents said they were likely to buy goods or services over the Net, compared with 59 percent of non-gay respondents.
The TOP 10 Most Visited/Most Popular
BISEXUAL Websites!
(non-adult & free bisexual websites)

These 10 bi sites are ranked
in the Top Million Websites:


1.
6.
2.
7.
Bi Cafe
www.bicafe.com
Rank 416,640
3.
Bisexual.dk
www.bisexuel.dk
Rank 225,338
8.
4.
9.
5.

Bi Finder
www.bifinder.com


Rank 250,060




10.
All Things Bi
www.allthingsbi.com
Rank 615,320

SOURCE: The marketing research data necessary
to produce this top 10 report is provided free
by
www.ranking.com
TM


When searching for the words
"bi men" in Google, the Bi Men Network
is listed in the first ten listings out of 3,820,000!
On August 17th, the Bi Men Network
was listed as Number 1 and 2!
Paid advertisers are highlighted in blue.
Results 1-10 are not highlighted: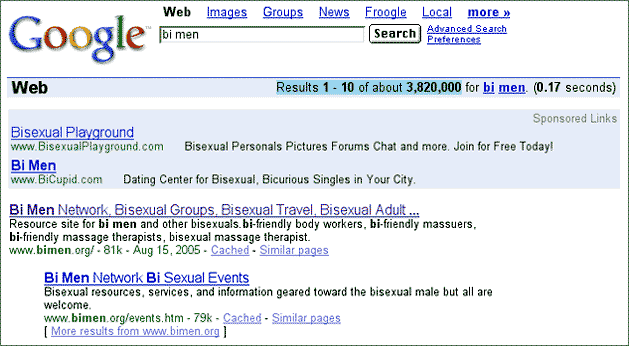 SOURCE: http://www.google.com/search?hl=en&ie=ISO-8859-1&q=bi+men



Marketing Options

BI Men Network offers several methods of market approach. We can tailor the approach to best suit your marketing needs. Display advertising on our website at www.bimen.org is of course a cost effective and attractive option. We also offer effective email driven marketing campaigns, special interest campaigns, geographically targeted campaigns, and spot display wide coverage options. Our in depth knowledge of our membership creates specific marketing opportunities which may be geared to compliment your service/product completely.

Please feel free to contact us for a personal and specific program to suit your needs, or for further information about the BI Men Network.



Other GLBT Marketing Information